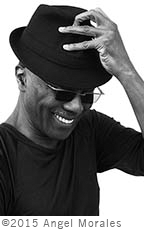 Born in Haiti where he acquired his love for the ocean,
Leslie Jean-Bart has been living in New York City since he arrived in the US in 1967.
After earning a master's degree in Journalism from Columbia University,
Jean-Bart embarked on a photography career that resulted in the creation of images
that have garnered awards and recognition.
Earlier days found Jean-Bart on staff at Sotheby's and Christie's where he was
surrounded daily by the world's greatest art. Freelance assignments took him all over
the world, as he shot for clients in Japan, Brazil, Iceland, Cyprus and Portugal.
His commitment to his craft and his defined vision, resulted in a variety of commercial
projects, and several published award winning books. A special collage project of Billie
Holiday and Charlie Parker for the Verve Music Group was cited for excellence.
Jean-Bart began exhibiting in 2001, when a number of his collages were part of the exhibit
"Committed To The Image: Contemporary Black Photographers" at The Brooklyn Museum.
From 2001-2003 he took part in a number of group exhibits at Monique Goldstrom Gallery
in SoHo, NYC.
During the last several years Jean-Bart put his career, but not his art on hold.
Committed to the care of his mother who has dementia, Jean-Bart became her daily guardian.
During this very trying time he soothed his soul by photographing water and reflections.
The call to somehow combine the ocean or water and the camera was never far from his mind
during the past two decades, and in 2009 the call became a mission and a project was birthed.
The ensuing series titled "Reality and Imagination" is the culmination of years of working the
science and magic that is photography and a never ending love of water, light, shape, form and
collage.
CV
Selected Solo & Group Exhibitions
2017 Solo Show, Griffin Museum of Photography Virtual Gallery
2017 3rd Annual Juried Exhibition, Providence Center for Photographic Arts, Providence, RI
2017 Small Works Baruch 2017, Sidney Mishkin Gallery, New York, NY
2017 Lenscratch, The 2016 Favorite Photograph Exhibition
2016 Solo Show, Xavier University of Louisiana, New Orleans, LA
2016 Atlanta Airport Exhibition, Amy Miller/Atlanta Photography Group, Atlanta, GA
2015 Illuminate, Center for Fine Art Photography, Fort Collins, CO
2015 Mary Stanley Selects, Atlanta Photography Group, Atlanta, GA
2015 Kamoinge's Timeless, Kenkeleba Gallery, New York, NY
2004-13 Mother diagnosed with dementia & was sole caretaker
2001 Committed to The Image, Brooklyn Museum, Brooklyn, NY
2001 Nicola Wood Retrospective, (A Collage of Mine) Petersen
Automotive Museum, Los Angeles, California
2001 Group Show, Monique Goldstrom Gallery, New York, NY
2000 Group Show, Monique Goldstrom Gallery, New York, NY
Awards
2017 3rd Open Call Exhibition|Honorable Mention|Juror Paula Tognarelli|Engagement
2000 Marion Vannett Ridgway Honor Book Award for "Strong to the Hoop"
2000 "Strong to the Hoop" was listed in Between the By-Road and the Main Road
list of recommended global children's literature that use collage.
"Strong to the Hoop" was chosen as an American Library Association Notable Book.
"Strong to the Hoop" was named one of the Choice Books by the Cooperative
Children's Book Center.
"Strong to the Hoop" was picked as A Notable Social Studies Trade Book For Young
People by the Children's Book Council.
"Strong to the Hoop" was chosen as a Best Children's Book of the Year by the Children's
Book Committee at Bank Street College of Education, New York.
"Strong to the Hoop" was Selected as a Notable Book for a Global Society by the
International Reading Association
Selected Bibliography
2016 Rosen, Sara, "Profile / Leslie Jean-Bart: Reality & Imagination"
Crave, March 2, 2016
2014 Gonzalez, David, "Mirrors in the Sand" Metropolitan Section Sunday New York
Times, July 6, 2014
2014 Grahame, Julie, "Reality and Imagination: Photo Collage in Coney
Island, Huffpost Art & Culture, July 22, 2014
Born, Aquin, Haiti. Currently resides in New York City.
Education
B.A., Columbia University, New York, NY
M.S.J., Columbia University, New York, NY
Leslie Jean-Bart has been photographing and giving visual shape to verbal ideas for varied clients
ranging from companies to magazines to book publishers for more than 30 years.
Partial List of Clients
1979-1995 IBM Corporation
The New York Times
BMW of North America
American Can
Columbia University
Newsweek Magazine
New York Magazine
Publishers Weekly
Simon & Schuster
United Way of New York
Verve Music Group
New York Transit Authority
Time Warner
Harper Collins Publishing
Chronicle Books
FUSE180.org
GARP
Traveled On Assignment To-
Japan; Venezuela; Iceland; Portugal;
Dominican Republic, among others.
1995-2000 Sotheby's
2000-2003 Christie's
Books
2013 Raising the Bar, (Zondervan /Harper Collins)
2006 Military High Life, (University Press of the South)
1999 Strong to the Hoop, (Lee & Low Books)
1998 Blue Guitar, (Chronicle Books)